Monica Brandies

Writer and Speaker

 

Florida author Monica Brandies has written a fabulous guide to growing and using citrus fruit, Citrus: How to Grow and Use Citrus Fruits, Flowers, and Foliage. This new book is packed with color photos throughout and amazing notes on common and unusual forms of citrus fruits including pummelos, tangelos, blood oranges, limequats, lemons, limes, grapefruits, and many many kinds of oranges.

Look for Monica's lectures, book signings, and events which are lined up in many parts of the state.

She recently completed the popular second edition of Florida Gardening: The Newcomer's Survival Manual.

She has been gardening all her life, publishing since 1961, and  raising their nine children since 1959.  The youngest, with Down syndrome, is still living at home.  Monica brings, sells, and signs books at speaking engagements.

She has spoken to church groups, plant societies, garden clubs, and other groups in five states with talks that combine inspiration, entertainment, and information.

 

Her articles appear weekly in the Brandon (Florida) News and are often seen in magazines such as Florida Gardening.

 

Her talks on gardening cover such topics as:

Adjusting to Florida Gardening

Gardening in Two Places, for Snowbirds

Watersaving Gardening*

Landscaping with Tropicals Plants*

Growing and Using Herbs

Edible Landscaping

Easy Gardening?Hints for Keeping it Painless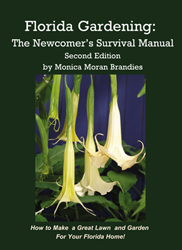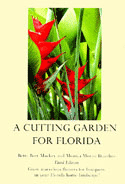 Butterfly Gardening
Easy Flower Arranging
Color in the Garden
Planting Privacy
Cuttings Gardens: Growing and
    Using Flowers for Bouquets          
Florida Gardening in the Shade
Shade Gardening for Florida*
What to Plant Where: Lists Help
Propagating for Plentiful Plants
Xeriscaping with Native Plants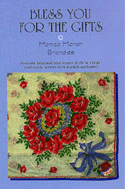 * denotes a talk with slides

~~~~~~~~~~~~~~~~~~~~~~~~~~~

Here is Monica in her garden with Dr. Jo

on Fox TV in Tampa

telling how to use herbs to cut down on salt.

Monica also performs readings from her memoir, Bless You for the Gifts.  For more information on her talks and fees, contact her at monicabrandies@yahoo.com .