Lots of us treat chrysanthemums as disposable plants. Maybe that's necessary in small gardens and with less hardy chrysanthemum types. Even in cold climates, however, some chrysanthemums can live outdoors for many years. Go to a noteworthy plant store to get a wider choice of the thousands of  varieties. I have an old, unnamed (to me) daisy-form chrysanthemum that has proven to be a beautiful and long-lasting plant, though late-blooming. A cottage garden type with brownish pink petals and gold discs, pictured at top left, it flowers every year.
Each spring, a circle of new offshoots appears around each plant. I thin these once they are about two inches high, digging them out carefully so that I have a main stem with a few inches of scant roots. Then I pot them up to give to others, or transplant them to other parts of the garden in freshly prepared soil. This seems to rejuvenate them as well as to propagate them.
In February, 2005, I found stems of mine sticking out above the snow, with dried flowerheads still on. Some impulse guided me to pick them and search for seeds. (Daisy-form chrysanthemums make seeds more readily than pom-poms.) What might be in the gene pool? I crumbled the flower heads onto a piece of white paper. Using a magnifying glass (well, just my nearsighted eyes peering over my glasses) and a pair of tweezers I poked around and set obvious chaff to one side, and found about ten little tube-shaped brown seeds about the size of pepper flakes from a pepper grinder.
I planted them a in recycled market pack and commercial seed starting mix and grew them under lights, getting six little plants within a few weeks. There is no telling what color or size the flowers will be. That is the fun of it. In April they went into a cold frame outdoors, still in the market pack, and in June I planted them in a newly dug part of the garden, where they became strong very fast. One died (maybe got eaten by a bug or stepped on by me), and five grew on.
From plant to plant, the leaves vary in size and shape. One formed flower buds and bloomed but the others will need another year. The one that bloomed is quite pretty but not remarkable, with a central gold disk and a triple ring of pinkish petals fading to beige in the centers. It is pictured on the left, the second down. The flat foliage is strong and healthy. It was fun to see it open at last, and I anticipate seeing the others unfold next year.
2006 UPDATES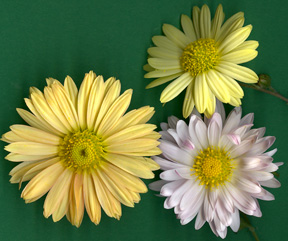 As of July, all the plants have come back very strongly. Growing straight and tall, they will take over the garden if I let them. Those I pinched back have branched well. All are are budded and ready to bloom in a few weeks.
As of early October, I can see that all the plants will bloom. The buds are showing color and should soon be open. This makes them slightly later than most other chrysanthemums in local gardens.
Now it is early November and all the plants have bloomed. Here are the results, pictured on the green background. Two are pale pinkish lavender, indistinguishable from each other, and they are very strong growers (bottom right). Two are yellowish with a flush of pale brown, large, and floriferous, shown on the bottom left. And one, the cutest, is a plain, butter-yellow daisy (top right) My experiment did not make chrysanthemum history but it was very rewarding to see and grow the results. If I find any seeds in February I'll plant them.
Click here for a free hit counter.