GREAT CITRUS BOOK By Monica Brandies!
Grow citrus! Kumquat, limequat, lemon, honey murcott, tangelo, Cara Cara navel, grapefruit, ponkan, pummelo? This book shows the best types of citrus fruit for your garden and tells how to grow them!
Use citrus! Citrus is one of the world's most useful herbs. Here are recipes for drinks, food, beauty products, household products, insect repellents, air fresheners, and more. Don't waste the fruit, peels, or even the blossoms. What a fun reference! In this colorful handbook, Florida author Monica Brandies shares her ways with wonderful homegrown or purchased citrus:

* Buy or harvest citrus. Tips on selection and storage of the best fruit.
* Grow citrus at home. Indoors in cool climates and outdoors in many southern states, here's what you need to know to keep your citrus trees and shrubs healthy.
* Citrus in the kitchen. Recipes and techniques for food and drink from citrus fruits, peels, and flowers. Treats! Waste nothing, not even the peels.
* Citrus around the house. Air fresheners, potpourri, citrus vinegar, citrus products for cleaning and stain removal, and orange oil for multiple heavy duty uses.
* Citrus in the garden. Kill bugs and fire ants, repel mosquitoes and cats, and make worm compost.
* Citrus guide. Select citrus types and cultivars, see harvest time for USA citrus-growing regions.
Only $16.95 per copy, postpaid to USA and Canada. Full color inside, 72 pages. So useful and fun! Available from this site and from full-service bookstores.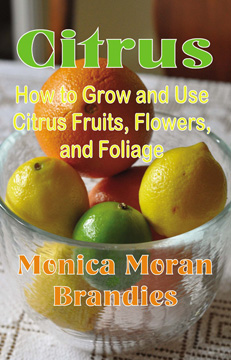 Click the gold purchase button to use your credit card or Paypal account to buy the book for $16.95. This price includes postage to USA and Canadian addresses.
Types of Citrus
This book describes named cultivars and their needs and ripening seasons in these cataegories:
Oranges: sweet, bitter, navel, blood, Valencia, Cara Cara, Sanquinellis, Taroccos, Hamlin, and more.
Mandarins, tangelos, satsumas, ponkans, temples, tangors, and tangerines
Grapefuit, pink or white, seeded or seedless
Pummelos and pummelo/grapefruit hybrids
Lemons and lemon/citrus crosses
Limes, Key Limes
Kumquats, calamondins, and limequats
With directions from the book, make your own:
Orange juice Citrus blossom tea Candied citrus peel Marinade for meat and seafood Citrus zest and garnishes Marmalade Marinade Citrus mint punch Closet fresheners and sachets; potpourri Air fresheners for home and car Insect and mosquito repellant Stain remover Hair rinse Home cleaner Plant leaf cleaner Lemon vinegar Cosmetics Food for livestock and wildlife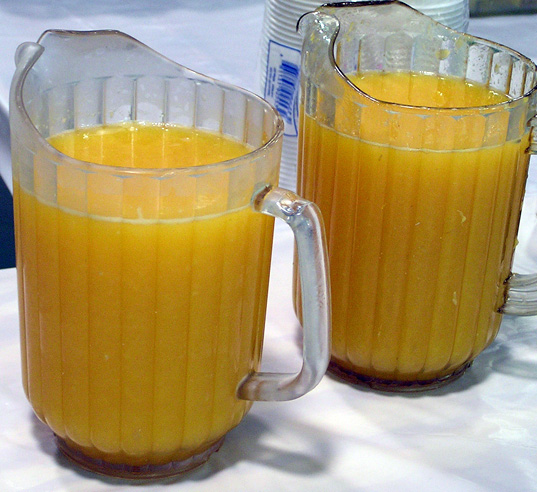 Citrus Factoids
Citrus is a herb and has many uses around the home.
All citrus contains many helpful vitamins and minerals.
Once picked, citrus will not ripen much further.
Cats dislike citrus aromas and chemicals -- use a mixture of coffee grounds and citrus peels in your garden to repel cats .
Citrus fruits with pebbly skin make better zest than smooth-skinned types.
Fallen citrus fruits that are not good enough to eat can be used for cleaning products and worm compost.
Pureed citrus peels discourage fire ants.