Planning Ahead for Herbs
by Betty Mackey
Fall is good for planting, inside in cold climates and outside in hot climates.
Fall i

s a time of abundance, and that goes for herbs. Yet our gardens will soon shift to a resting phase. Now it is time to plan ahead for the spare, bare days of winter, when just a few green leaves can make all the difference. Wouldn't it be nice to snip some chives onto the potatoes in January, garnish a roast chicken with your own fresh chervil in February, or add sage leaves to the pan where sausages are cooking on a snowy day in March!

There are several ways to grow fresh herbs through the winter, from seed or from cuttings. You can grow sage from seed, propagate it from cuttings, or buy live plants. Herbs (I always pronounce the H but dictionaries list both 'erbs' and 'herbs' as correct pronunciations) include a number of plants whose leaves, seeds, or flowers are used for cooking, household tasks, fragrance, or dye. Most culinary herbs can be air-dried, but it changes their flavor and appearance, not necessarily in a bad way.

Last winter when my mail-order seeds arrived, I planted parsley, coriander, and chervil in the surface soil of some of my four-foot houseplants in the sunroom, knowing that they could share their big pots. Parsley takes many weeks to get big enough to use, chervil grows fast but stays small, and coriander is in between. I got great results with ridiculous ease. I ate the chervil and coriander in winter and spring but transplanted the parsley to the garden in May.

Whether you say herb or 'erb, here are tips on keeping those tasty little green leaves coming along even when winter is doing its worst. These are some of the easiest and most useful to have around. You should get good results by planting seeds in three-inch pots filled with commercial potting soil formulated for seeds. If you are trying a culinary herb that is new to you, taste a little bit the first time to make sure you like it and are not allergic to it. There are so many to enjoy for their savory flavor and fresh green color, through the year.

Anise hyssop. A perennial plant with sweet, heart-shaped leaves tasting of licorice. Grow indoors from seed, or dig up an existing plant, cut it down to two inches tall, shake off the old dirt, and repot for a window garden. Use leaves in tea or salad. It self sows and the seedlings vary in fragrance and flavor.

Arugula. An annual plant used for strong flavor in salads. Grow a few seeds per pot on a windowsill or under lights. Use leaf by leaf.

Basil. An annual plant that is one of the most popular and useful. Did you know that sprigs of basil will root in water on a kitchen window? Remove the lower leaves of a six inch cutting. This gives you new leaves to use for a few more weeks and you can also pot up the newly rooted plants. Grow plants from seeds or cuttings.

Bay. Bay laurel is a tender shrub to grow as a houseplant in a sunny room. The leaves are used in soups and stews, then discarded before serving.

Chamomile. This annual plant makes fernlike leaves and little white daisies with yellow centers, and is used in tea. Grow it from seed under good lighting.

Chervil. This annual French herb tastes something like tarragon but looks a little like parsley. It is quick and easy from seed, so plant more every few weeks to keep a fresh supply coming.

Chives. You can grow a quick and disposable batch of perennial chives from seed in a little pot on a sunny windowsill. The thin new leaves are best. Snip and use as needed. Better plant a couple more pots so you have some to give away.

Coriander. This annual is used in Mexican, Near East, and FarEast cuisines. I am frugal and don?t buy seeds; I grow them straight from the spice bottle. The fresh leaves are called cilantro. This works fine on a windowsill.

Cuban oregano (Plectranthus amboinicus). This tender perennial plant has thick, scalloped leaves that taste just like oregano and are used the same way. The prettiest plants have variegated lime and dark green leaves. Grow this as a house plant.

Dill. An easy annual that is great for garnishing fish and potatoes. Grow it from seed in a sunny window or under lights. Make successive sowings. Look for fern-leaf types, which are bushier than the dill meant for pickles.

Garlic. If you want a crop of garlic, plant cloves outside in fall. If you want garlic foliage for soups and salad dressings, plant individual cloves of garlic in little pots of soil on the windowsill. They will provide oniony shoots of cuttable garlic grass in a couple of weeks. You can do the same with shallots. You can even grow the bulbs in water, for a while, and the fresh green leaves are milder than garlic cloves.

Mint. Mint is a perennials that can take over, but it is nice to have it handy for drinks and lamb dishes. Like basil, its relative, mint can grow roots on cuttings in potting soil or water. Or dig up a bit of mint, cut the top all the way back, and plant the roots in a small pot for the windowsill.

Oregano and marjoram. These two are perennials in the mint family. Taste them before you buy. Pot up a few little plants for indoors, or grow them from seeds or cuttings.

Parsley. It isn't easy to grow enough parsley indoors because it is a biennial plant that starts out small and slow. The seeds can take three weeks just to germinate. But plant it anyway because it will take months of growing to get plants big enough to set outside in pots or the garden in spring.

Rosemary. A shrub, rosemary is too tender to live outdoors in winters here, but it is great to have it handy indoors as a potted houseplant. Some are weeping while others look more like Christmas trees. Sprigs of fresh rosemary do wonders for red meat, potatoes, and stews.

Sage, Savory, Tarragon, and Thyme. These are large perennials outdoors. Use young plants or rooted cuttings for a kitchen window sill, or grow them in a big pot in a sunroom. Sage goes with pork and turkey, savory with beans, tarragon with chicken and fish, and thyme with practically everything.

~~~~ Floridians, this herb book is for you! Herbs and Spices for Florida Gardens, by Monica Brandies, tells how to grow and use herbs and spices in the unusual conditions of Zones 9 through 11 on the Southeastern end of the United States (eg. Florida and parts of Texas, Louisiana, and Arkansas). Many common herbs WILL grow in Florida if planted at the right time of year, and you can also grow many spices that challenge the rest of us. Click the PayPal button to buy it for $15.50 postpaid.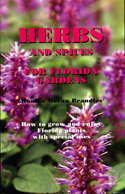 ~~~~~~~~~~~~
New Book! Featured on Amazon.com, look at FAIRY GARDENS by Betty Earl
Fairy Gardens: A Guide to Growing an Enchanted Miniature World