If you love plants, some day you must see the gardens of England and the United Kingdom, where gardening is art. Plants are lush and dewy. Nature provides the mild climate, rich soil, and long, long summer days that bring forth the best in plants. The U.K
'
s plant lovers arrange them with exquisite charm and legendary expertise.
When you go, you cannot see everything, for there are so many famous gardens, and each one cycles through seasonal changes as spring tulips and azaleas give way to summer roses, clematis, and lilies, and then to autumn asters and grasses. How can you create the most enjoyable trip? It requires planning with both a seasonal and regional focus, but wonderful gardens are so abundant that you can hardly go wrong.
I went garden touring in England in early summer. The first visit was to garden writer Beth Chatto's garden in East Anglia and the last was a day at the Hampton Court Palace Garden Show in London. Lucky for me, I rode through the countryside on a package tour with fellow garden writers. All I had to do was get on the bus each morning and sit tight for the garden trip of a lifetime. Everywhere we went, billowing summer flowers were in peak form. The food was good, especially the fresh, sweet local strawberries.
My trip was coordinated by Donna Dawson, a garden tour planner based in Canada. All participants met in London and boarded the chartered bus, with cockney driver Michael telling us wild tales whenever we were quiet. As shown on her website, http://www.icangarden.com , Donna leads groups to gardens in different parts of the world. Additional cultural and fun stops add to the experience. Our group visited gardens mainly in the eastern portion of England (sometimes called Constable country, after the artist), a region renowned for ghost stories and ancient houses as well as great gardens. Other garden tours to consider concentrate on more famous gardens such as Sissinghurst, Kew, and Wisley, near London, or the gardens of other regions such as Scotland or Cornwall. Many garden tours have the hugely popular Chelsea Flower Show as their prime feature.
Our first stop, author Beth Chatto's garden, is famous for its beautiful plantings in diverse habitats. Gardening there since 1960, Mrs. Chatto developed several acres of waste area with clay and gravel soil into one of the most remarkable gardens in England. She improved the soil through composting, enlarged a boggy area with a spring into a beautiful lake surrounded by gardens, and developed a Mediterranean garden with unusual plants which thrive in sunny, gravelly areas. Her plant placements are based on her late husband Andrew Chatto's botanical researches and her own artistic sensibility.
"Now the problem areas have almost become advantages. It has been a big learning experience," she said.
We traveled on to the private garden of author Alex Pankhurst, whose little cottage was surrounded by many rare rock and border flowers in a style that she called close boskage, meaning that the ground was completely carpeted with plants in overlapping layers. Colors flowed harmoniously from one eye-filling planting to the next. She used many troughs and containers, too.
Over the next few days, we saw other private gardens and visited the headquarters of seed and plant dealer Thompson & Morgan, and Notcutts, an important plant grower and dealer. A side trip to the medieval villages of Kersey and Lavenham yielded delightful pictures of half-timbered medieval cottages being re-thatched, but no ghost sightings. Even the wild poppies and other weeds coming up in the pavement cracks looked charming. Most homes were adorned with skillfully composed window boxes or hanging baskets.
The next big feature was Blooms of Bressingham. Adrian Bloom led us on tour through many richly planted acres, starting with the Dell Garden of world-class plantsman Alan Bloom, his father. It features 47 island beds of superlative perennials with winding grass paths between them. They can be viewed from all sides, with the plants in the center being taller than we are and surrounding ones somewhat shorter. Many of them are Bressingham introductions. Then he showed us Foggy Bottom, his own all-season private garden, which includes many rare evergreens and heathers. The weather being fine, Alan Bloom came out and greeted us (he is now 97 years old). My favorite plant, used by father and son, is five-foot tall, blue Campanula pyramidalis set against a background of dark evergreens.
The following day our coach carried us off to Essex for a visit to one of the Royal Horticultural Society gardens, Hyde Hall. This stately home, located in one of the driest regions of England, has a garden that demonstrates sustainable horticultural techniques, proving that it is possible to have a beautiful and diverse garden without extensive watering. Formal garden styles near the house featuring clipped boxwood and neat parterres gave way to a woodland, pond, rose, and perennial gardens in other more distant locations. A very fine alpine house featured rock garden plants in containers. They had successfully created perennial display gardens in analogous color schemes. Each design was separated from the others by a low hedge, but you could see several at a time if you tried.
After lunch at Hyde Hall, we toured the small but intense garden, Glen Chantry, created by Sue and Wol Staines beginning in 1977. On only two and a half acres they have a nursery, greenhouses, a display garden with impressive shrub and perennial borders, a vegetable garden,

a rock garden, a pond, a parking area, and their own home. They offered so many spectacular and unusual plants that I wished I could shop there and garden nearby.
Could anything be more amazing? Well, yes. My favorite spot is the ten-acre Old Vicarage Garden in East Ruston, near Norwich, one of the most outrageously original and beautiful feats of landscaping I have ever encountered. Though not on the usual path for garden tourists it is more than worth the detour. Owners Alan Gray and Graham Robeson have restored a handsome, Arts and Crafts style vicarage and have redone its surrounding landscape. To deal with a warm gulf stream climate that is vulnerable to fierce northern gales, they created elaborate formal garden rooms with walls and hedges for windbreaks, and also for wildlife habitat. Alan told us that it was a prairie landscape when they bought it in 1973, a desolate spot with no garden. In the 1960s farmers had grubbed out the hedgerows, and a few sparrows were the only creatures around. Now there a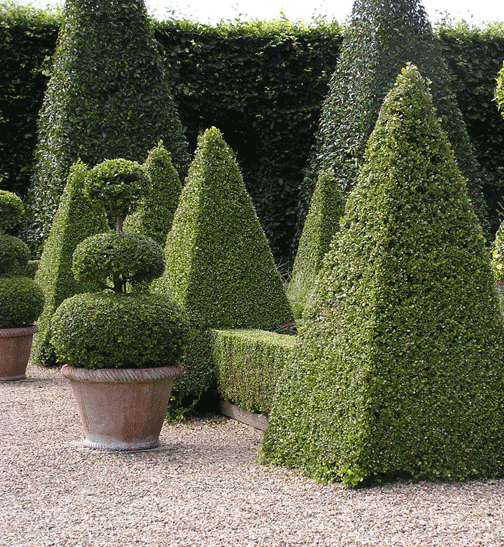 re many bird species, but pests returned, too, not that I saw any of them. I saw eye-popping garden art, fantastic topiary, and some of the best plants anywhere, in formal yet whimsical designs. Named garden areas include the North Garden, the Sunk Garden, the Dutch Garden, the Tropical Border, the Mediterranean Garden, the California Border, the Long Borders, the Meadow, the Pond, the Walled Garden, and more, all of them completely over the top. Believe me, or go to their website and see for yourself at http://www.e-ruston-oldvicaragegardens.co.uk/ .
Dazzled by The Old Vicarage, we left the next day for our last two horticultural adventures. Hadspen Garden, in Somerset, designed and run by Nori and Sandra Pope, was halfway across England. It is a colorist garden with artful plantings involving analogous color themes and contrasting forms. Then we returned to London for our final event, the Hampton Court Palace Flower Show. With 150 specialist nurseries exhibiting there, it resembled the Philadelphia Flower Show in many ways, although it is held outdoors in a rather grand location. All the newest plant cultivars and the latest in garden tools and furnishings are displayed there. If you hanker for a little hobby greenhouse, samples there will tempt you. This huge show is held on the actual grounds of the Hampton Court Palace, so when you have seen so many plants and planters that you can't look at another, go across the way and tour the palace instead. Then come back and find more garden specialties to add to your wish list.
My British garden tour last summer was a dream come true. I've stored up enough summer garden memories to get through a cold winter and spring. Come summer, new garden vistas will be waiting. In China, perhaps? The South of France? Scotland? Now is the time to look into special trips and tours being offered for the coming season.
--- If you Go ---

If you decide to do horticultural touring, you can travel independently or take a package or group tour. The benefits of a group tour are that you don't have to adjust to driving on the 'wrong' side of the road and your itinerary is already planned. Some tour providers are able to gain access to special private gardens. The challenge is to find a really suitable tour. Check to see if something you would like is being offered by horticultural organizations. The American Horticultural Society, the Pennsylvania Horticultural Society, and individual plant societies often offer tours. Serious garden magazines such as Green Scene, Fine Gardening, and Horticulture have advertisements about privately run tours. Many travel agencies have garden tour information, too.

---Useful Contacts ---
http://www.icangarden.com, Donna Dawson?s horticultural tours
http://www.visitbritain.com/gardens/ Travel advice for Britain
http://www.visiteastofengland.com Travel advice for the East of England
http://www.cornwallathamptoncourt.co.uk Garden info for Cornwall, including Eden Project
http://www.virtualtourist.com Travel advice
http://www.worldspirit.org.uk/ Not-for-profit tours, natural and spiritual themes
http://www.ahs.org The American Horticultural Society, 7931 East Boulevard Drive, Alexandria, VA 22308-1300
http://www.pennsylvaniahorticulturalsociety.org Pennsylvania Horticultural Society, 100 North 20th Street, 5th Floor, Philadelphia, PA 19103-1495
http://www.dehort.org/ Delaware Center for Horticulture, 1810 N. DuPont Street, Wilmington, DE 19806
http://www.english-heritage.org.uk British historical information
Photos: top left, calla lily, center, stone seat at Hyde Hall, right, thatched hut at Blooms of Bressingham
Center of page, topiary at The Old Vicarage.