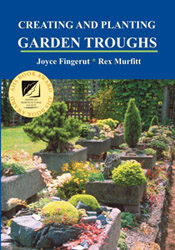 THE TROUGH BOOK HAS RETURNED! Creating and Planting Garden Troughs, by Joyce Fingerut and Rex Murfitt, is NOW out in a revised paperback edition. It is 168 pages long.
This book has been called the bible of trough making and it won a book award from the American Horticultural Society. For making troughs large and small, here is the classic hypertufa technique plus variations. This illustrated book covers trough history, making troughs, planting troughs, plants for troughs, and landscaping design with troughs. Published by B. B. Mackey Books.
To purchase it with Paypal, click below.
New Paperback Edition! Creating and Planting Garden Troughs.
168 pages, paperback. Introductory price $21.00 postpaid. Regular price $23.
ISBN 9781893443211. Click below to buy from B. B. Mackey Books with Paypal at the introductory price.
New Book by Betty Earl
--
Fairy Gardens: A Guide to Growing an Enchanted Miniature World
Portable miniature fairy gardens are often made inside troughs because they are weatherproof in all climates.
**FREE TROUGH DIRECTIONS**
Make a Small Trough for your Plants with Papercrete, Hypertufa, or Mortar Mix
Making stonelike small troughs is easy using different kinds of concrete. Concrete is composed of Portland cement plus aggregates or filler. Different kinds of filler such as sand, pebbles, peat moss, perlite, and paper give you different effects. Concrete cures best at temperatures between 50 and 80 degrees F. Complete curing takes 28 days.
You mix all the dry ingredients together, add the water, form the trough, and let it cure. Unlike clay, no firing or cooking is required, and your finished trough won't crack during winter freezes and thaws. Do it with any of three simple proportional recipes. Be sure to have extra ingredients on hand because it takes more concrete to make a trough than you might expect. This is a dusty job and should be done outdoors if possible.
Hypertufa is a variant of concrete containing Portland cement, perlite, and peat moss. It is similar to mortar mix and to regular concrete, but lighter in weight. Proportions are 2 parts Portland Cement to 2 parts peat to 3 parts perlite. It will take 20 or more cups of Portland Cement to make a moderate sized trough.
Papercrete is similar to hypertufa but uses shredded paper instead of the peat moss. The proportions are 2 parts Portland Cement, 2 parts (dry volume) finely shredded paper loosely packed, and 2 to 3 parts sand OR perlite. Papercrete has a fairly smooth consistency and the paper fibers make it easy to shape. It takes a little more water than hypertufa.? When ready to use, it should be very thick and hold its shape when squeezed into a ball.
Mortar Mix (or sand mix or post-setting mix) is a type of premixed concrete. You just add water and if you wish some reinforcing fibers. The mix usually contains only Portland cement, lime, and sand in the correct proportions and can be gotten from the hardware store in 20- to 40-pound bags. Mortar mix makes a dense, heavy trough, but if you are making only a small project it is not a problem and can be done with little fuss. There are many kinds of concrete mixes available, of varying composition and usefulness. Those including a bonding agent can be gooey and hard to handle.
Supplies
You will need sturdy rubber gloves, a large trowel or small shovel, a dust mask, a wheelbarrow or mixing container, plastic sheeting to protect your work space, a mold or form for the trough, plastic bags to line the mold or form, a source of water, a measuring cup, and a board upon which to make and transport your project.
Supply Checklist
__a package of mortar or sand mix , OR all the ingredients for hypertufa or papercrete (see above)
__mold or form for the trough __rubber gloves
__trowel or small shovel for mixing __dust mask
__board for carrying the project on __plastic bags for lining molds
__waterproof mixing container or wheelbarrow __cover to protect work area
__water and measuring cup __plastic sheeting and duct tape
Step 1. Pick a Project. Decide what kind of cement you will make (plain, papercrete, or hypertufa) and how you will mold it. Get your mold or form ready (see the three simple projects below) and place it on a plastic-covered board. Put on the gloves and dust mask and then pour all the dry ingredients into the wheel-barrow or mixing container. Break up lumps. Do not add water until the mold or form is ready. When the concrete mix is wet you can remove your mask.
Step 2. Basic Mixing Technique. Once your mold is ready and placed on a board, moisten the ingredients with as LITTLE water as possible (eg.12 cups mix and two cups of water) and knead it in thoroughly. Make a stiff dough that holds its shape without dripping or crumbling. Add water if necessary. Follow package instructions if you are using a mix. Smack and pat the concrete mixture into the inside of, or onto the outside of, your mold or form. Work it very firmly to get out the air bubbles.
PROJECT A: Paving Stones. Find or make the molds. For identical pieces, make several molds or a reusable one. Four narrow rectangles of foam board can be nailed, then taped together. A rectangle 12 by 15 inches is easy to manage; larger sizes are trickier. Or use strong wooden or cardboard boxes reinforced with plastic and duct tape. Set the mold you are working with on top of a carrying board. Mix the concrete (step 2) and pack it tightly into the mold, starting in the middle and working toward the outside. Keep the depth even, measuring it with a nail or toothpick. Two inches is a good thickness. Cover the finished ?stone? with plastic and let it start to cure in the shade.
PROJECT B: Birdbathing Bowl. To make a birdbathing bowl, find a large, deep flowerpot saucer (made of clay or firm plastic) about one foot wide and 2.5 inches deep for your form. Wrap it tightly in a plastic trash bag and tape the plastic securely so it will not squish around while you are packing on the concrete mix. Place it on the transport board or tray, upside down. Starting at the bottom or ground, apply the mix, by handfuls, all around and up the sides, and then across the top. Of course, all will be turned over when you finish and the concrete has set. Smack the mix firmly to make an even coating, at least an inch thick. Use a big nail or wire to check thickness (but then close up the hole). If you like, add three feet to what will become the base, by making three two-inch wide balls of concrete mix and smacking them on near the center, in an evenly-spaced triangular arrangement. Then wrap it loosely with plastic sheeting and set in the shade to start to cure.
PROJECT C: Small Trough in a Bucket. To make a small trough inside a plastic dishpan, a round or square plastic pail, or a disposable paper paint mixing bucket, line it with an opened-up plastic trash or shopping bag. You can also use a low, wide flowerpot or wooden box. Avoid straight-sided metal containers for you will have trouble removing the project after it dries, because the concrete expands. Press in the dampened concrete mix, firmly, making an even bottom and building up the walls. An inch or more of thickness, evenly applied, is good. Cut out or shape a drainage hole in the center. Without removing it from the bucket, close the bag over the wet trough with a twist tie and set in the shade to cure. Do not bump or disturb it.
Step 3. Cleanup. Immediately rinse out your mixing tools and mixing container with water, before the concrete mix hardens. This will be a very alkaline mixture so be careful where you dump it out (not on the acid-soil-loving azaleas!). Don't put it down the drain or it could cause clogging.
Step 4. Smoothing and Aging. Let the project cure for over 24 hours but not over 48 hours. Remove it from the wrappings and then take time to sand, scratch, smooth out, distress, or age the surface until the shape and texture appeal to you, using an old chisel, can opener, ice scraper, or other sturdy tool. Antique troughs of real stone were chiseled. Scrape off all stiff-looking edges, bubbles from molding, and the like. Then rewrap it in the plastic and continue curing the trough in a cool, shady place. 28 days of curing is said to be ideal but 7 to 10 days has worked for me, possibly at cost of a few years of longevity of the trough. A trough continues to age and cure even after being used.
Step 5. Planting. When the trough has cured, it can be used like any flowerpot. The cement is somewhat alkaline, especially when it is new. There are some plants that favor this pH, while others prefer acidic soil and will not thrive in it. The alkalinity of the trough will affect the soil pH, eventually. Choose small plants in proportion to the container, then set them into place using soil suited to the type of plant. Top the soil with a mulch of small stones or grit, or for shady gardens, a sheet of moss.
*** Note. This small-trough technique is good for ornamental projects that weigh ten to twenty-five pounds. For a complete guide to making and planting troughs of all types and sizes, refer to the book Creating and Planting Garden Troughs, by Joyce Fingerut and Rex Murfitt for its thorough treatment and instructions for larger projects with far more scope. There are also many excellent magazine articles on the subject.